About the Artist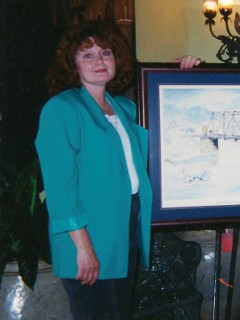 Barbara Willingham is a lifelong resident of Kentucky, born in Harlan County and raised in the rural southeastern region. For several years after high school, Barbara worked in factories while she raised her son, Darren. Barbara was a dedicated mother, and creating visual art was not a priority then. However, Barbara usually found time to draw and paint, and she felt she could sometime later fulfill the creative aspect.
In 1985 at age 35, Barbara began her pursuit of a formal art education when she enrolled at Cumberland College in Williamsburg, KY. She earned her Master of Art-English Education degree and began teaching art in 1990 for Corbin Independent Schools. She retired from teaching in 2009 and currently devotes her time to painting and managing her own gallery situated beside her home in London, Kentucky.
Barbara's style of painting is not primitive, but it is with a realistic style that often depicts the simple and quaint, the things with which she is familiar. Barbara paints subjects by which she has been personally inspired or connected, such as a memorable everyday life event, an architectural treasure, or a beautiful landscape. In Barbara's work it is clear to the viewer that heritage is a significant factor.
From her original oil and watercolor paintings, Barbara produces prints and note cards to supply her own gallery and other visual art markets.